Places to visit in Singapore for Honeymoon in 2022 – Singapore, the island city is definitely one of the most magnificent countries in Asia. There is something about the skyline of Singapore that makes this country one of the most illuminating ones in the whole world. No wonder tourists from all over the world visit this gorgeously stylish city for their travel.
Lately, lots of men made marvels have been added to the city that attracts people to its beauty all over the year. Singapore is lately becoming one of the hotspots for couples as well. A lot of newlywed couples are deciding on Singapore as their honeymoon destination because of a lot of cute and cosy places the city is home to.
The marvellous display of man-made and natural wonders in the country has something for every kind of couple. Singapore is one of the most gorgeous destinations for a honeymoon and lets us prove it to you with a list of amazing places to visit in Singapore for a honeymoon in 2022.
Click Here For – Singapore Tour Package
P.S – We have something for every kind of couple in here. You can decide the vibe of your honeymoon solely as per your preference from the below list of amazing places to visit in Singapore for a honeymoon in 2022.
Places to visit in Singapore for Honeymoon in 2022
#1 Sentosa Island
Starting the blog with the most famous place to visit in Singapore which has to be Sentosa Island. The freshness, the liveliness, and the fun of this place will make sure that you are having a wonderful time with your partner. There are seaports, retreats, a luxurious spa, etc to keep the couples engaged in fun-filled activities. Make sure to keep a day or two saved solely for this place.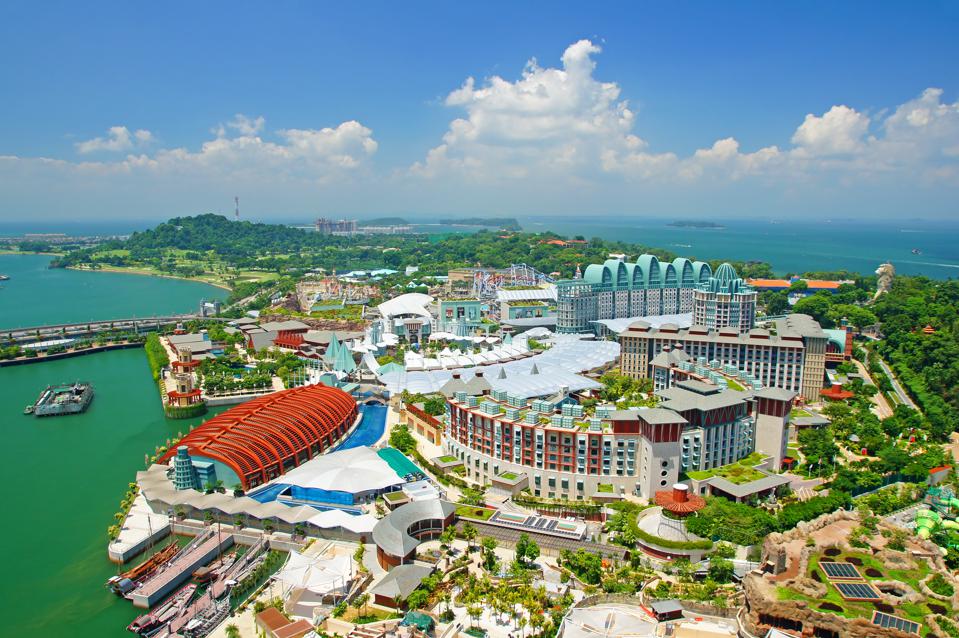 #2 Night safari
Night safari is a totally fantastic experience that the couples must engage themselves in. As a couple, you need to gather as many wild experiences as you can on your honeymoon that increases your adrenaline rush. Going on a night safari in Singapore in the first nocturnal zoo in the world is a fab thing to indulge in. You will be making memories for a lifetime that you will always think about.
#3 Changi point coastal walk
Tell us a thing more romantic than a peaceful walk in the most gorgeous vicinity, we will wait! Changi Point is known for its peaceful coastal walk where the couples can get an amazing view of the sea, port, boats, hilltop chalets, heritage trees, and more. Imagine walking hand in hand with your loved one talking about life, getting closer to each other, and soaking in the vibe.
#4 Henderson Waves
If a romantic walk isn't enough for you, how about taking a stroll with the love of your life around the most greenery island. Henderson Wave is basically a bridge that is made in the shape of waves. It is a wonderful manmade architecture to admire. The surrounding here is peaceful and makes for a great evening space to hang out. You can click lots of romantic pictures here with the best view in the backdrop.
#5 Gardens by the bay
When in Singapore, you ought not to miss this iconic place. As a couple, you need to visit this place to see the future of romance under the gigantic gorgeous trees that look even pretty with the lights on. Here you will find some interesting places like a supertree grove, cloud forest, flower dome, and lots more.  You will be spoilt for choices here for pictures at every spot. One whole day must be spent here.
#6 St. John's island
In Singapore, there is no dearth of gorgeous islands no matter what. On this island, you get a chance to play with the dolphins which adds an 'oh so romantic' factor to your honeymoon. This island has enough fish gardens and trees and is just 15 minutes from the madness of the city. If you are a beach person who loves to chill with your partner near the water, watch the sunset, listen to music, etc, this is the place for you.
#7 The Ritz Carlton, Millennia
Let's make your honeymoon a little more lavish with the addition of this place to your itinerary. Staying even for a day in The Ritz Carlton Millennia is about spending a day in lavishness and watching the unrivalled view of the Singapore skyline and Marina Bay. This place gives you enough time to spend with your partner and stay close to the luxury. Do not miss out on the Afternoon Tea served here which is a tradition that will offer you a delightful tea experience in a sophisticated ambience.
#8 Universal Studios
How can you not visit the most famous place in the country when you are there? Universal Studios has something for everyone and so for the couples. No matter whether you love thrill or not, this place has a lot for you. It will be a fun-packed day full of rides, madness, magic, and lots of fun memories. Some of the many famous rides of the studio are Battlestar Galactica: Cyclon, Jurassic Park Rapids Adventure, Transformers the Ride, Revenge of the Mummy, etc.
#9 Singapore Flyer
You are on your honeymoon and hence you need to try experiences that you haven't tried before or are exclusive to you. Going to the Singapore flyer and having a dinner date in the flyer enjoying all the latest amenities while the flyer is moving and you are gazing at the whole city is something next level. You won't be doing something like this quite often in your life so go for it. Make your honeymoon experiences count for the best.
#10 The Botanic Gardens
Singapore is filled with nature bounty places and The Botanic Gardens is one of those. This one is like a virgin rainforest and a lush green retreat to spend an amazing time. This is just not like any other garden but a huge miraculous one with a collection of over 2000 orchids to stare at. A date here in the Corner House Restaurant amidst nature is so out of the box feeling.
#11 Chinatown
China Town is one gorgeous place to head out to in Singapore when you are on your honeymoon. This place is a mix of traditional culture with millennial vibes in perfect fusion. You will have a great time exploring the culture of the place while indulging in some authentic Asian street food.
#12 Bintan Island
Island hopping is one of the most peaceful activities that you will be doing on your honeymoon trip to Singapore. Bintan Island is one of the most exotic, exquisite, and serene islands to explore. You can enjoy drinks by the beach, try out the different water activities, and just watch the beautiful sunset from this place. Visiting this place will be worth it for so many reasons.
#13 Merlion Park
No chance that you would be missing this most iconic spot of Singapore when in the city. The Merlion is the official mascot of Singapore. This one is a mythical creature with a lion's head and the body of a fish throwing water from its mouth. Hanging out around here is fun and all things fantastic with your partner.
#14 Fort Canning Hill
For all the honeymoon couples out there, Fort Canning Hill has to be one of the most important places to visit. This place is famous for its natural splendour. Walking with your partner near the hillside while admiring the beauty of the country is going to bring so much peace to your mind. Heading out to such picturesque and nature closed places will rejuvenate you like never before.
#15 Yueh Hai Ching Temple
The best thing that you can do on your honeymoon is to visit the Love Temple and get blessings in abundance. This one is the oldest Teochew temple in Singapore that was constructed in 1826. Get the blessings of Yue Lao and nurture your relationship with all the positive signs. It is a very scenic place that you would like for sure. This is also one of the UNESCO heritage temples.
#16 Bukit Batok Town Park
After exploring the country and its madness you must also indulge in some serenity to get closer with your partner ever than before. One such place where you can be in solitude has to be Bukit Batok Town Park. The locals refer to this place as the Little Guilin. The park is generally occupied by couples all the time. A short trip to this park will be so worthwhile.
#17 Haji Lane
Visiting a fancy country like Singapore and not shopping is like sinning. Shopping is evident on any trip and in Singapore, one of the best-budgeted shopping destinations has to be Haji lane. Haji Lane is a vibrant street filled with designer murals on the walls, designer boutiques, charming cafes, and aesthetic spots to click pictures. The vibe of this lane is energetic and fresh.
#18 Esplanade Roof Garden
Roof gardens are always the best but one of the most amazing gardens that you will visit has to be the Esplanade roof garden. From the top of this garden, you will have a gorgeous panoramic view of the city. There are manicured lawns, small shrub trees, comfortable seating for visitors, a place for a walk, and lots more. It is like a chill place to just sit, absorb the beauty, have deep conversations, and enjoy.
 #19 Singapore River
Not going to lie but your honeymoon is totally incomplete without a fun trip to the Clarke Quay and cruising down the Singapore River. While you are cruising on the Singapore river, you will be watching the historic places of the city and will get the perfect view of the Marina Bay Sands, and also other landmarks while enjoying the breeze. This is a very romantic experience to try out in Singapore with your partner on your honeymoon.
#20 Marina Bay Sands
Ending the blog with one of the most gorgeous places in Singapore for a honeymoon which has to be the Marina Bay Sands. A stay in a luxury resort that has a fancy mall, infinity pool, and a view of the skyline of Singapore will bring you closer than before. You will always remember the time spent here for the rest of your life.
These were the top 15 places to visit in Singapore for a honeymoon in 2022. Of course, the country has no dearth of fantastic places. But, we made a list of top experiences for every kind of couple to suit every kind of mood. Spending time at these places will definitely ensure that you will be having a blast on your honeymoon in Singapore. There will be not a single dull moment if you add these places to your honeymoon list to Singapore. You are going to love it.